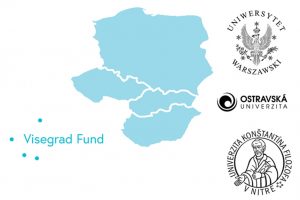 Project ID:
21910068
Supported by:
The International Visegrad Fund
Description of the main project objective:
The project is focused on contemporary pronunciation norms (orthoepic rules) of West Slavonic (Slavic) languages – Czech, Polish and Slovak. The elaboration of this topic is very useful for all who want to learn these languages or want to improve standard pronunciation of Czech, Polish or Slovak. The published outputs (book and workbook) of this project can be used by university students and professional speakers of different professions (e.g. teachers, translators, interpreters, TV and radio reporters, drama actors etc.) as well as by people in the business sphere. Publishing the principles of contemporary pronunciation norms of mentioned languages (in a wider context and with comparative aspect) in one book would be very convenient for Slavic studies in general. Besides the main output – the book "Orthoepy of West Slavonic Languages (Czech, Polish, Slovak)", the participants will organize workshops for students from all involved universities (focused on practical pronunciation exercises with native speakers – participated experts), they will write the workbook for use in workshops and in future teaching and learning and they will also organize colloquiums of experts to discuss the topic in a larger forum and get usefull suggestions for the book.
Applicant:
University of Ostrava
Address: Dvořákova 7, Ostrava, 701 03, Czech Republic
Website: www.osu.eu
Coordinator of the project:
Mgr. Pavlína Kuldanová, Ph.D.
E-mail:
Address: Faculty of Education, University of Ostrava, Department of Czech Language and Literature with Didactics, ul. Fráni Šrámka 3, 709 00 Ostrava, Czech Republic
Project partners:
Partner No. 1:
University of Warsaw, Faculty of Polish Studies, Institute of Western and Southern Slavic Studies
Address: ul. Krakowskie Przedmieście 26/28, Warszawa, 00-927, Poland
Website: www.uw.edu.pl
Contact person: dr Milena Hebal-Jezierska; e-mail: m.hebal-jezierska@uw.edu.pl
Partner No. 2:
Constantine the Philosopher University in Nitra, Faculty of Arts
Address: Trieda Andreja Hlinku 1, Nitra, 949 74, Slovakia
Website: www.ukf.sk
Contact person: PhDr. Marcel Olšiak, PhD.; e-mail: molsiak@ukf.sk
Implementation period:
01/06/2019–30/11/2020
Project phases:
Phase
Description of the phase
19/06/2019 – 20/06/2019
Preparation meeting of participants
01/07/2019 – 01/11/2019
Writing the workbook "Orthoepy of West Slavonic Languages – practical exercises"
01/06/2019 – 30/11/2020
Writing the book "Orthoepy of West Slavonic Languages (Czech, Polish, Slovak)"
November 2019 – May 2020:

November 2019
March 2020
May 2020

Workshops for the students of all participating universities:

University of Warsaw
Constantine the Philosopher University in Nitra
University of Ostrava

November 2019 – May 2020:

November 2019
March 2020
May 2020

Colloquiums of experts of all participating universities:

University of Warsaw
Constantine the Philosopher University in Nitra
University of Ostrava

November 2019 – May 2020
Evaluation of workshops and colloquiums